Contact Us
The Sanbornton Police Department can be contacted in many ways. By clicking on the personnel link you can obtain each officers e-mail address at the police department, at no time should any emergencies be emailed to officers. For a list of the phone numbers please see above on the right. All contact information can be found on this page to reach our agency.
Need to contact an officer direct? - For a list of Email addresses for each officer please see the Personnel section and click on the officers photo.
Mailing Address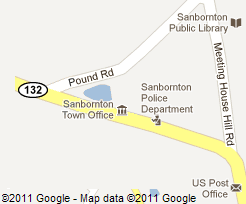 565 Sanborn Road Sanbornton, NH 03269
Phone:
603-286-4323
Fax:
603-286-2818
Business related matter:
Monday - Friday 7:00 a.m. - 4:00 p.m.

* Police Officers are on duty 24/7
Facebook:
For Emergencies Dial 911
Driving Directions
Coming from the North, take 93 south exit 22, right off the exit, first right is Perley Hill road. Take a right off of Perley Hill Road and the Police Department will be one mile on the left.
Coming from the South, take 93 North exit 20. Left off the exit, first set of lights take a left. Stay on Rt.132, Police Department will be 2 1/2 miles on the right.